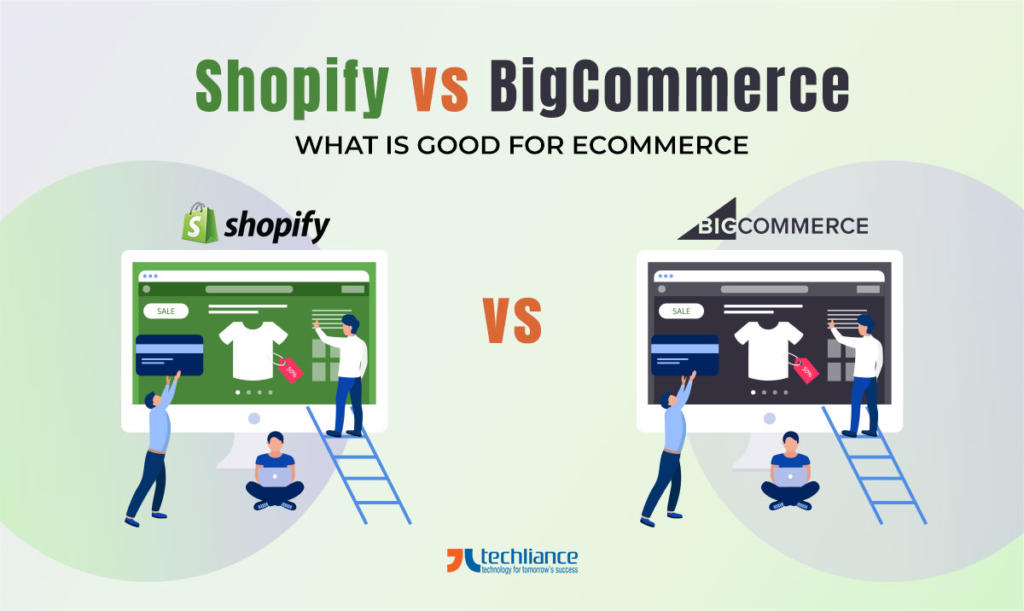 Shopify and BigCommerce are 2 top names for e-commerce businesses or online point of sales. They both are the juggernauts of online stores and hosting online stores.
If you want to go for an online sales platform, both of them are very good. Both are inexpensive, have customizable templates, there is an import and export feature using a CSV (Comma-separated values), which basically allows you to upload things used in excel, both have in-built blogging, discount codes, round the clock support, responsive website and much more. Both have a very similar User Interface with a single dashboard and Abandoned Cart Recovery. Though you do not have to be a tech expert to manage your store, yet you will need a designer for selection of appropriate themes, colour scheme, product display etc. for both platforms. Like similarities, both have some difference. One has an advantage over the other in some aspects. Shopify has better credit card rates, shopping fees, better and cheaper templates, add-ons and apps such as ratings, reviews, check-out features etc. It integrates with Pinterest, listings and a ton of things and platforms. BigCommerce is better out of the box. It gives you gift cards on the lowest tier, you can add built-in ratings, real-time shipping quotes, abandoned cart saving features, and partnerships with other B to B giants. Here goes detailed Shopify Vs BigCommerce.
• Basic to Highest plans per month: Shopify 29 to 299 dollars; BigCommerce 29.95 to 249.95 dollars
• Overall the price looks similar but difference starts to emerge in the transaction fees. Shopify has better credit card rates with 0.9% lesser than BigCommerce on the basic plan and really down on the advanced plan. Shopify has their own payment processor, which allows you to take credit cards on your store – you are not dependent on PayPal. BigCommerce doesn't have their own credit card processor, but they use Braintree, which is powered by PayPal. Shopify integrates with about seventy other payment gateways and BigCommerce around forty other options. BigCommerce has 0 transaction fees if you are not using their payment processor, but in Shopify, they will charge you a fee on top of what your external processors are charging from you.
• You get free trials on both of these, which require very little information. Shopify gives free trial for 14 days, BigCommerce for 15 days.
• The theme is what your store looks like. They both offer customizable free and paid themes. Shopify has a ton of more theme templates than BigCommerce.
• Both platforms allow you to customize your theme as long as colours, fonts etc are concerned. BigCommerce allows more detailed customization than its counterpart.
• Apps and plugins can be very useful in helping you automate tasks within your store. Shopify is more dependent on third-party apps than BigCommerce. They are not in-built but you can buy some really interesting add-on by paying a little extra. There is also an app on Shopify that allows you to seamlessly shift your things from Aliexpress to Shopify. For Dropshippers this is an excellent tailor-made option for setting up their store in no time. BigCommerce also has a few hundred apps, all flawlessly functioning, and they have just announced Drop-shipping Stores.
• BigCom allows Google customer reviews on pro plan whereas Shopify has not specified any such thing.
• You can get a free SSL certificate with both of them but BigCommerce specifies that you can get customized SSL certificate.
• BigCommerce has a selling limit on the basic plan that is 50k dollars and has a smaller user base.